Intouchables is a 2011 French comedy film based on the memoir (You changed my life) by Abdul Sellou. The film went on to break records in France being the third highest-grossing film till December 2019.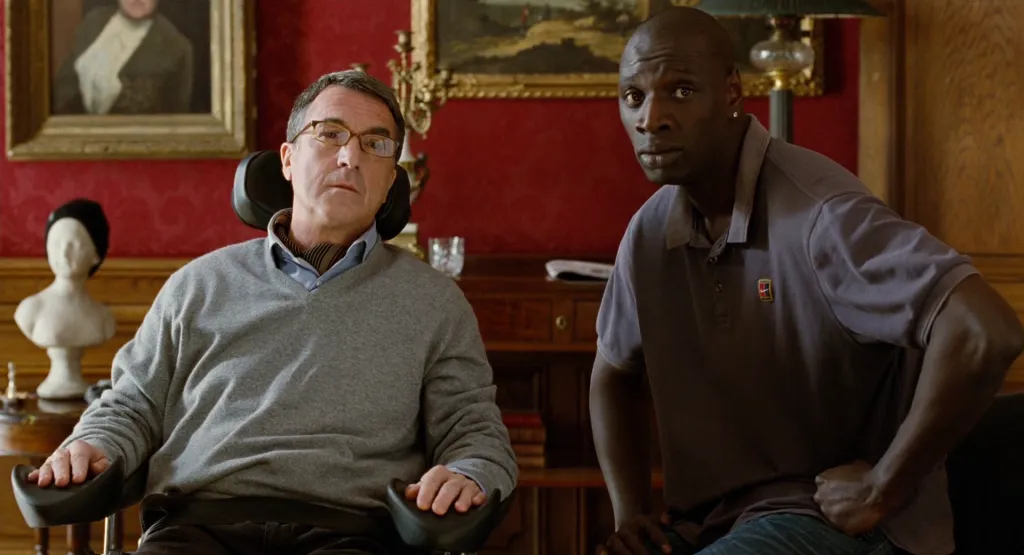 Spoilers Ahead
The story is of two men in Paris. One being an aristocrat- Phillipe and the other a Senegalese immigrant- Driss from the suburbs. Phillipe is a paraplegic under his neck so he is unable to perform any task. He meets Driss during a recruitment drive for a caretaker. Although Driss at first is uninterested in the job, he gets hired because he has no pity for Philippe and makes fun of him unapologetically. It's this attitude that makes Driss a fun-loving character. Afterwards what follows is a simple tale of friendship between two men belonging to the opposite ends in the economic stratum of the society.
The way the film starts makes it feel like a bond film. Two men in a car chased by the police but, it quickly takes a turn and transforms into a comedy. My personal exposure to comedy films has always been mainly Indian cinema and Hollywood. Both have a distinct style that makes their comedy movies stand out. My perception of comedy films has been that of Home Alone, The Mask, 24 Jump Street, Hera Pheri, Golmal, Dhol etc. It would have never occurred to me that Intouchables is a comedy film until I saw it classified as one on the IMDb page. The film is told with a magical realism instantly engrossing the viewer.
Don't get me wrong though, the film is no doubt funny but it is also touching. The friendship between the two men is something to be envied on. They develop a relationship whose basic foundation is trust, especially for Phillipe since he is at the mercy of Driss for everyday tasks. Driss, on the other hand, is there just because he gets to have a cosy bed and a lavish bathroom with a bathtub. Both of them go through a character transformation that inspires Driss to give himself more chance at things and on the other hand, Phillipe gets inspired to loosen up a bit and quit his aristocratic ways of doing everything. This goes to a point that Driss starts to appreciate Arts and Phillipe learns to let his true emotions show to the people around him and, at the end of it all they become inseparable as friends.
To me what appeals the most about this film is that there is nothing fancy about it, there is no attempt at experimentation, no overuse of soundtrack, no fancy editing, what it has is flawless acting by Omar Sy and François Cluzet. The focus here is on the relationship between all the characters.
There is a controversy as well that surrounds this film which is a black guy serving a white guy. This to me totally depends upon how it is portrayed and intouchables deals with this masterfully. The film treats every character as a human being rather than the job they do. Hence this controversy to me is nothing but some irrelevant activists making noise to prove their point.
One of the most appealing aspects of the film is undoubtedly the soundtrack. Composed by Ludovico Einaudi, it is the first track from his 2004 album of the same title Una Mattina. The soundtrack elevates the mood of the film. The only word to describe the amalgamation of the visuals and this soundtrack is 'Beautiful'.
Lastly, I would say that cinema is not about inventing a new storytelling technique or making use of groundbreaking technology. Something as simple as two people meeting and impacting each other's lives can turn out to be an unforgettable experience that leads to the formation of lifelong relationships. A friend can be found in any setting and seemingly unsavoury people sometimes might touch us in ways that reveal ourselves in ways we never thought possible. Thus, Intouchables in a positive sense remains a poignant piece of cinema for me.
The film is available free to watch here.